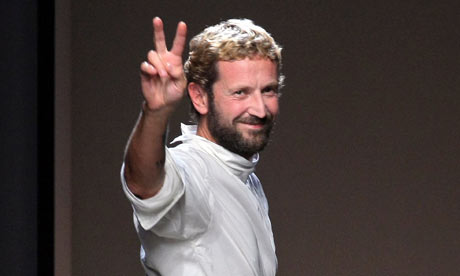 The departure of YSL's creative director, Stefano Pilati, has this morning been confirmed, with the Autumn/winter 12/13 show in Paris next week to be his last.
Heidi Slimane , 43, is the designer hotly tipped to replace Pilati at the label he once worked for in the late nineties, however both YSL and parent company, PPR have refused to comment on who will take on the role.
"We are all at Yves Saint Laurent grateful to Stefano for his important achievements in advancing the mission and success of this historic and treasured fashion house," said Paul Deneve, brand CEO.
The news follows a string of criticism from YSL about Pilati's work – "Some of what he does is good. Some of it is not so good," commented Saint Laurent in 2005. Pierre Bergé, former YSL boss has too made his feelings clear, attending the shows of other designers during international fashion weeks, publicly praising those such as Slimane and Riccardo Tisci, and banning the designer from events, including the opening gala for the retrospective exhibition for YSL itself.
Despite this, Pilati will exit on a positive note after successfully increasing sales following a period of severe losses for the fashion house.
"I'm incredibly proud of what I have accomplished with my teams over the past decade at Saint Laurent," he told reporters.
"I exit the house with fierce conviction in all that we have achieved and deep gratitude to those who have supported me along the way," he added. "I wish the maison Yves Saint Laurent and its new creative director the very best for the future."
Who would you like to replace Stefano Pilati at YSL? Tell us in a comment below…